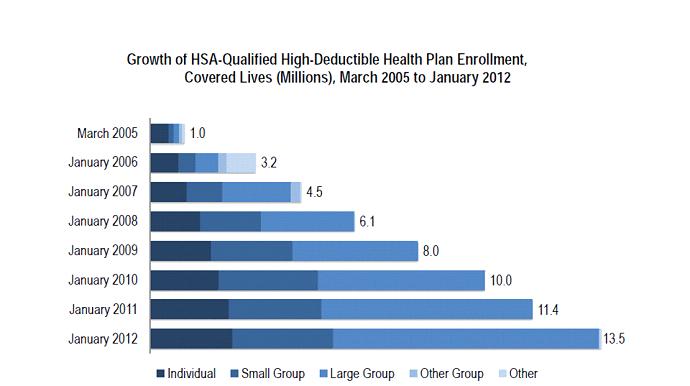 Since Health Savings Accounts were introduced in 2004, enrollment rates have increased significantly each year. People have switched to high-deductible policies to save money on premiums and to give themselves the opportunity to open an HSA.
In the latest census released by the America's Health Insurance Plans, HSA enrollees numbered 13.5 million as of January 2012. That's an 18 percent increase from the enrollment rate seen in January 2011, which was 11.4 million. If you look back only as far as 2008, the current number of enrollees today has more than doubled from only 6.1 million to 13.5 million.
The bulk of the increase last year came from large employers offering HSA plans to employees. The census of HSA enrollment from large-group employers rose by 26 percent (a growth of 59 percent), while small-group HSA plans only increased by 9 percent. Vermont had the highest bulk of HSA enrollees with 20 percent; followed by Minnesota at 14 percent; then Montana and Utah made up 12 percent of the total HSA plan enrollees. Individual enrollment climbed to 2.5 million in January 2012.
Health Savings Accounts were primarily created to allow individuals to reduce annual taxes by being able to place tax-free contributions into the account and use the funds to pay for qualified medical care. Some people are using their HSA as a retirement account since the unused balance rolls over annually like an IRA.
People like that Health Savings Accounts allow them to get tax deductions for health care that's not covered by insurance. Karen Ignagni, President and CEO of AHIP, said the growth of Health Savings Accounts is because these plans offer high-quality coverage at an affordable rate.